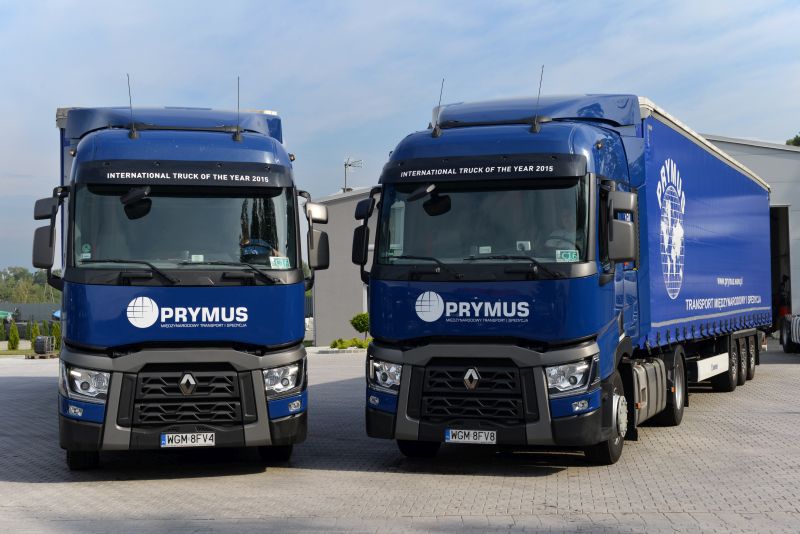 PRYMUS Company provides transport and freight-forwarding services to most European countries with basic routes to: Germany, Belgium, the Netherlands, France, Italy, the Czech Republic, Slovakia, Hungary. We have been also providing domestic freight-forwarding and transport services. Apart from full truck loads, we also have experience in handling partial loads and added loads.
We hold a waste transport licence valid in Poland and Germany.
After Poland's adherence to the EU in May 2004, transport within the EU has gained more importance for us. Our partners entrust us with their products and praise the high quality of our services.
All vehicles are equipped with the GPS navigation system. Our drivers, who have been employed by Prymus for a long time, guarantee trust and professionalism. This is why we ensure quick and timely deliveries of goods, at the same time guaranteeing safety and high quality of services provided.
Taking care of client satisfaction, we strive to keep our fleet in the best possible condition. All our trucks meet the Euro 6 emission standards. We also inspect the technical conditions of our fleet on an ongoing basis. We employ professional mechanics and have our own technical facilities. Our fleet includes Mega semi-trailers, coilmulde semi-trailers and 4-Breit semi-trailers.
We use our best effort to protect the goods we transport so all loads carried by Prymus are insured under a carrier's liability insurance agreement including domestic and international transport at the Ergo Hestia insurance company up to the insurance cover of EUR 300,000. We also have a cabotage insurance policy for EUR 600 000.
We are perceived as an active, reliable and trustworthy company by our Partners and Clients. One of our most important goals involves ensuring client satisfaction both in terms of quality and cost-effectiveness.
PRYMUS SZUMACHER, WIECZOREK SPÓŁKA JAWNA Gongolina 8, 96-314 Baranów, NIP (Tax Identification Number) 529-174-49-13, PL5291744913, Regon (State Statistical Number): 141227711
OFFICE AND CORRESPONDENCE ADDRESS ul. Bałtycka 55, 05-825 Grodzisk Mazowiecki Tel.: +48 (22) 755 57 83 Tel.: +48 (22) 755 63 75 Faks: +48(22) 755 60 83